Supply Chain News
Founding Supply Chain 24/7 Content Director Has Passed Away
With deep sorrow, we share the news of the passing of our esteemed team member, Clive Purchase.
Bank of America Introduces Digital Supply Chain Finance Platform
Bank of America is adding a supply chain module to its popular CashPro Trade platform, enabling faster processing of financial transactions for global supply chains.
No surcharge for holiday packages, USPS says
With an eye on the 2023 peak shipping season, the United States Postal Service (USPS) said it would not implement any additional surcharges on holiday shipping.
Talking Supply Chain: Is Generative AI the future of the supply chain?
Combining natural language processing and machine learning, Generative AI is quickly becoming a necessary companion to supply chain operations.
Port Everglades: Expansion and Sustainability Efforts for the Future
Jonathan Daniels, CEO and Port Director for Port Everglades joins Michael Levans, Group Editorial Director of Peerless Media's Supply Chain Group in a discussion revolving around the port's...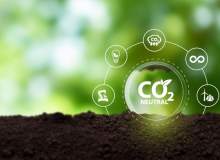 Moody's: Carbon Offsets Open Supply Chains Up to Financial, Reputational Risks
A new report from Moody's finds that companies that rely on buying carbon offsets as an emisisons-reduction strategy could face financial and reputational harm.
Shippers Focus on Yield Management as Rates Continue to Rise
With FedEx and UPS raising their rates, savvy shippers can still find rate value for 2024, but time may be running out.